Dental Care for the Whole Family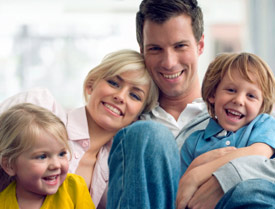 So what exactly is family dentistry? Well, it is a dental practice that is capable of serving patients of all ages, and has the skills to provide a wide range of service to accommodate everyone's needs. So, you and your whole family can visit the same clinic, usually at the same time, and be treated by the same dentist. Some of the most popular procedures our families receive are cleanings, extractions, fillings and teeth whitening. At Shenandoah Family Dentistry we take great pride in providing top of the line services that will exceed your expectations.
What can you expect from Shenandoah Family Dentistry?
I - Great Service
We treat all of our patients as if they were family. So whether you are coming to see us for a regular checkup, teeth whitening, a painless extraction of a troublesome tooth or dental cleanings and fillings expect warm, friendly, welcoming service. From your shy toddler to your grandparents, everyone will leave happy.
II - Sense of Comfort and Security
Everyone in your family will have a sense of comfort and security while in our office. So, how does Shenandoah Family Dentistry achieve this? By simply being themselves! Our dentists, dental hygienists, dental assistants and receptionists are all pleasant and friendly. Everyone is willing and able to make you feel right at home during your visit. Our dentists, Dr. Carrell and Dr. Dostal are trained to help patients, especially young children, feel safe and at ease even on their very first appointment. So on your next appointment, you or a member of your family, will not have to leave the house worrying about your dental appointment. Instead, you will know that you are headed to an office where you will be treated as if you were family.
III - Flexible Hours
Families schedules today are stretched by work, schools, sports, etc. We try to make it as quick and easy as possible to see a dentist. We will work with you to try to accommodate everyone's schedule. Give us a call today and we will get an appointment scheduled for you and your family.